Overview
The heel bone is the largest of the 26 bones in the human foot, which also has 33 joints and a network of more than 100 tendons, muscles, and ligaments. Like all bones, it is subject to outside influences that can affect its integrity and its ability to keep us on our feet. Heel pain, sometimes disabling, can occur in the front, back, or bottom of the heel.
Causes
Some of the many causes of heel pain can include abnormal walking style (gait), such as rolling the feet inwards. Obesity. Ill-fitting shoes. Standing, running or jumping on hard surfaces. Injury to the heel, such as stress fractures. Bursitis (inflammation of a bursa, bursae are small sacs that contain fluid to lubricate moving parts, such as joints and muscles). Neuroma (nerve enlargement). Certain disorders, including diabetes and arthritis.
Symptoms
Plantar fasciitis is a condition of irritation to the plantar fascia, the thick ligament on the bottom of your foot. It classically causes pain and stiffness on the bottom of your heel and feels worse in the morning with the first steps out of bed and also in the beginning of an activity after a period of rest. For instance, after driving a car, people feel pain when they first get out, or runners will feel discomfort for the first few minutes of their run. This occurs because the plantar fascia is not well supplied by blood, which makes this condition slow in healing, and a certain amount of activity is needed to get the area to warm up. Plantar fasciitis can occur for various reasons: use of improper, non-supportive shoes; over-training in sports; lack of flexibility; weight gain; prolonged standing; and, interestingly, prolonged bed rest.
Diagnosis
After you have described your foot symptoms, your doctor will want to know more details about your pain, your medical history and lifestyle, including. Whether your pain is worse at specific times of the day or after specific activities. Any recent injury to the area. Your medical and orthopedic history, especially any history of diabetes, arthritis or injury to your foot or leg. Your age and occupation. Your recreational activities, including sports and exercise programs. The type of shoes you usually wear, how well they fit, and how frequently you buy a new pair. Your doctor will examine you, including. An evaluation of your gait. While you are barefoot, your doctor will ask you to stand still and to walk in order to evaluate how your foot moves as you walk. An examination of your feet. Your doctor may compare your feet for any differences between them. Then your doctor may examine your painful foot for signs of tenderness, swelling, discoloration, muscle weakness and decreased range of motion. A neurological examination. The nerves and muscles may be evaluated by checking strength, sensation and reflexes. In addition to examining you, your health care professional may want to examine your shoes. Signs of excessive wear in certain parts of a shoe can provide valuable clues to problems in the way you walk and poor bone alignment. Depending on the results of your physical examination, you may need foot X-rays or other diagnostic tests.
Non Surgical Treatment
Clinical trials are underway investigating the use of radiofrequency to treat plantar fasciitis. It is a simple, noninvasive form of treatment. It allows for rapid recovery and pain relief within seven to 10 days. The radio waves promote angiogenesis (formation of new blood vessels) in the area. Once again, increasing blood flow to the damaged tissue encourages a healing response. Antiinflammatory medications are sometimes used to decrease the inflammation in the fascia and reduce your pain. Studies show that just as many people get better with antiinflammatories as those who don't have any improvement. Since these medications are rarely used alone, it's difficult to judge their true effectiveness. A cortisone injection into the area of the fascia may be used but has not been proven effective. Studies show better results when ultrasound is used to improve the accuracy of needle placement. Cortisone should be used sparingly since it may cause rupture of the plantar fascia and fat pad degeneration and atrophy, making the problem worse. Botulinum toxin A otherwise known as BOTOX has been used to treat plantar fasciitis. The chemical is injected into the area and causes paralysis of the muscles. BOTOX has direct analgesic (pain relieving) and antiinflammatory effects. In studies so far, there haven't been any side effects of this treatment.
Surgical Treatment
Although most patients with plantar fasciitis respond to non-surgical treatment, a small percentage of patients may require surgery. If, after several months of non-surgical treatment, you continue to have heel pain, surgery will be considered. Your foot and ankle surgeon will discuss the surgical options with you and determine which approach would be most beneficial for you. No matter what kind of treatment you undergo for plantar fasciitis, the underlying causes that led to this condition may remain. Therefore, you will need to continue with preventive measures. Wearing supportive shoes, stretching, and using custom orthotic devices are the mainstay of long-term treatment for plantar fasciitis.
how to get rid of heel spurs
Prevention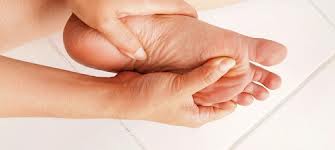 Maintaining flexible and strong muscles in your calves, ankles, and feet can help prevent some types of heel pain. Always stretch and warm-up before exercising. Wear comfortable, properly fitting shoes with good arch support and cushioning. Make sure there is enough room for your toes.